Allergy Testing in Temple

Texas is no exception when it comes to allergies. Around 20% of the United States population are allergy sufferers. Skin test surveys suggest this could equate to 40 to 50 million people across the country. Allergies are ranked as the sixth leading cause of chronic diseases in the United States. Within these statistics, 40% of these allergy sufferers in the U.S. are children.
In Texas, you know when it is allergy season. There are some steps you can take help to minimize allergen reactions in Temple, including:
For those with severe allergies, replace/remove all rugs and carpeting, if possible, in your home.
Sweep floors instead of vacuuming them. Using a can spread more allergens
Over-the-counter allergy medication is a great first defense.
Only use medication prescribed by your physician.
Neti pots and nasal irrigations are helpful.
---
Allergy Testing in Temple TX
An allergy test is an exam performed by our trained allergy specialist to determine if your body has an allergic reaction to a known substance. The exam is in the form of a pain-free skin test. Children and adults appreciate this pain-free testing process. Our goal is to help you discover the right treatment to rid your life of the daily struggles with allergies.
Allergy Symptoms
A runny nose
Sneezing
Blocked sinuses
Itchy watery eyes
Breathing difficulties
Swollen Eyes
Scratchy Throat
Unfortunately, can lead to a medical emergency
If over-the-counter allergy medications are not giving you the relief you need from your body's reactions to allergens, you are a candidate for allergy testing. At Temple Allergy Clinic, we test using a needle-free technique that is painless for children and adults.
---
Seasonal Allergies
Winter Although allergies disappear during the colder months of winter in the U.S., the opposite is true in Texas. Winter is considered the worst season of the year for allergies in Texas. The allergies experienced by cedar trees can be severe. In some cases, the allergy can be so strong people may think they have the flu. Be cautious of cedar fever!
Spring The allergies people experience in spring can usually be found nationwide. The main cause of springtime allergy discomfort is pollen from oak trees. Somewhat milder, but still relevant allergen-producing trees in Texas include cottonwood, elm, ash, and pecan.
Summer Summers can be a terrible experience for some allergy sufferers. While most are enjoying outdoor activities, some people find they are allergic to grasses, including Bermuda, Bahia, Sweet Vernal, Timothy, and Orchard. Freshly cut grass is not a friend of allergy sufferers.
Fall Ragweed is a popular allergen affecting people during fall. Ragweed can emit around a billion grains of pollen each season. Temperature plays a role in the severity of these reactions.
Other allergens are present year-round.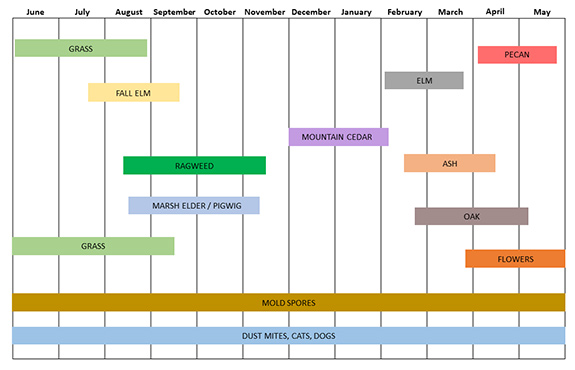 Allergy Forecast
Enter your information below to see the Allergy Forecast for your area. 
OFFICE HOURS
---
Monday
8:30am - 6:00pm
---
Tuesday
8:30am - 6:00pm
---
Wednesday
8:30am - 6:00pm
---
Thursday
8:30am - 6:00pm
---
Friday
8:30am - 6:00pm
---
Saturday
9:00am - 2:00pm